Dragon Pool hosted on the fast and trusted smart chain powered by Binance (Binance Smart Chain otherwise called BSC) is a platform that features tokenized Digital creatures in a virtual universe. This leverages the unique feature of Non-Fungibility that BEP-721 offers.  
The future of blockchain games
The economy is growing, the demand for entertainment and smart use of human time is increasing – that is, using free time for entertainment but still making a profit. The Blockchain Game industry is a remarkable development. This merger between a new, decentralized, agnostic and immutable economic model and one of the most popular economic models in human history (gaming), is surprisingly natural surprise.
Blockchain gaming are games that allow users to own items that have blockchain technology applied inside it. This is an innovation in the gaming industry because instead of using virtual currency like today's popular games and only controlled by a server, blockchain gaming allows players to own exclusively the items of the game themselves through NFT (Non-Fungible Token) coins. Each NFT represents an asset, character, pet… in the game and players can sell their NFTs for coins or tokens.
If you are a participant in the field of cryptocurrency, you are familiar with the term NFT, the most unique and irreplaceable token, built with the technology that encodes the smart contracts of the blockchain.
Players spend time playing. They develop skills with patience and persistence. To this day, their efforts are measured by scores, ratings, and/or character evolution.  Leads us to Dragon – a game that allows players to capture their unique gaming achievements in their NFT. Furthermore, Dragon Pool makes certain achievements especially hard to recognize, allowing special players to make their NFTs very rare and therefore very valuable.
Game Overview
Dragon Pool is a game based on a combination of NFT IO-game (mobile game) platform and simple antagonistic blockchain, which is built by Dragon Pool team, in this game we can join and build your own business by owning Items, Dragons in different rarity levels and exchange on marketplace, which are made available in the Game. The game will be officially launched in December 2021.
Although launched later, with the competitive advantage in iterms of low risk and low initial investment, we are confident that Dragon Pool will create a new wave in the field of Blockchain Gaming. At the same time, it shows that the player can assert his worth through skill, ingenuity and sound strategy thereby bringing profit to the player. In addition, development team is constantly improving to balance the game as much as possible.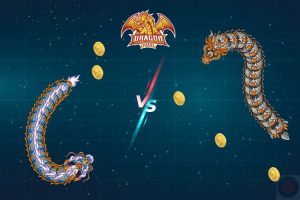 Dragon Pool is a new implementation based on the same formula, with several new highly desirable features. Most significantly, it makes use of the BEP20 protocol offered by BSC to create its own Token known as DP-NFT.
Dragon Pool aims to be the first ecosystem to combine the thrill of gaming and the value of digital collectibles, transforming it into the digital creature's universe. Dragon Pool will make use of a next level NFT- based gameplay and integrate it with a blockchain-based decentralized financial system, making the game not only for fun but also an investment.
Play-To-Earn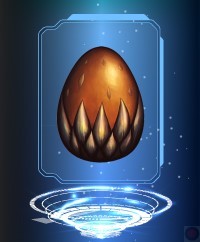 – BSC-based infrastructure should withstand huge transaction volume, smooth processing speed and competitive transaction costs;
– Using blockchain technology to help prevent censorship and interference from issuers;
– Simple, engaging gameplay, attractive and vivid graphics;
– With only a low starting cost from only $1.2 you can enter the game room to hunt for food and earn several thousand dollars if you have a good strategy and protect your Dragon from death.;
– Diverse mission system, many attractive rewards, high value;
– With airdrop and presale programs, players will be able to own DP-NFT Token very soon;
– Especially, the main DP-NFT coin used in the game will be collab with Dex Pancakeswap, top CEX, Coinmarketcap. 
Tokenomic
Token Name: Dragon Pool Token
Ticket : DP-NFT
Total supply: 100,000,000,000 tokens
Protocol: Bep-20 (Binance Smart Chain)
1 transfer fee 1.5% (1% transfer to burn wallet reduces supply, 0.5% is a reward divided equally among holders according to holding ratio).
Token Allocation
Advisor: 3%
Dev: 24% – locked for 24 months and opened every month 1% (divided 24 wallets into keys)
Marketing: 12% – Lock 24 months per month, unlock 0.5% (divide 24 wallets to lock)
Agency: 10%
Listing : 12% – burn cakelp 50% and lock 50% for 2 years
Play to earn: 26%
Presale: 12%
Airdrop: 1%
Road Map
Phase 1: (12/2021)
+ Character creation and marketplace
+ Create website and social channels
+ Audit
+ Airdrop and bounty
+ Presale
+ Listing DEX Pancakeswap
+ Update information to coingecko
+ Listing on CEX top: Airdrop will be opened for the second round for members on CEX
+ Launch beta game
Phase 2: (3/2022)
+ KOLs / Influencer marketing
+ Official launch of the game
+ Live streamer
+ Airdrop phase 3
+ Launched the feature of buying and selling items for dragon embryos
+ Launching daily reward quest system
Phase 3: (6/2022)
+ Launch game ver2
VIP playroom feature (earn more tokens)
Allows creating multiple rooms, the owner of the room receives a commission
Ranking top Rank, reward every week.
Special room system with high profit
+ Listing coinmarketcap
Phase 4: (9/2022)
+ Launching game ver3
New Dragons Released
Dragon farming feature
Features of owning and selling dragon's house
Mobile platform (ios, android)
+ Collaboration with game studios
+ Organizing tournaments, multinational gaming tournaments
+ Listing more DEX/CEX exchanges
The private sale is ongoing, with the launch date yet to be announced. The valid investor who would love to collaborate, invest, or get involved with the Dragon Pool project can get in touch with the team at [email protected]
For more information on Dragon Pool, please visit:
Website |  Telegram Announcement |  Telegram Community |  Linkedin | Medium |  Facebook |  Youtube | Twitter | Reddit